Making The Best Investment For Your Gutter Business (Gutter Machines)
Metal Roofing, June, 2018

As the nicer weather is upon us, many contractors and gutter businesses are struggling to keep up with their jobs and projects. Due to the labor crunch, subcontractors have never been more in demand. Because of this, a lot of roofing, siding and gutter installation companies have been buying machines to help take better control of the labor shortages.
GutterSupply.com, based in Lake Bluff, Illinois, encourages gutter contractors that if you haven't already bought a gutter machine, that you should seriously consider purchasing one.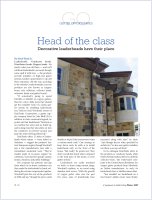 Head of the Class (Conductor Heads)
Mark Ward, Sr., Gutter Opportunities, Winter, 2007

Leaderheads.Conductor heads. Distributor heads. Hopper heads. No matter what you call them — and we'll call them leaderheads (one word, though some spell it with two) — the products provide installers of high-end gutter systems another opportunity to up-sell their customers. (By the way, according to the website Conductorheads.com, the products are also known as scupper boxes, rain collectors, collector heads, rainwater heads, and gutter boxes!)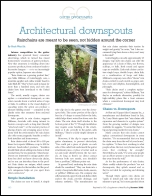 Architectural Downspouts (Rain Chains)
Mark Ward, Sr., Gutter Opportunities, Summer, 2006

Intense competition in the gutter industry has spawned heavy consumer advertising, which in turned has raised homeowners' awareness of gutter products. Now that awareness is trickling down into accessory products, from conductor heads to decorative hangers — or to an increasingly popular option, Japanese rain chains.

Click here to read the entire article.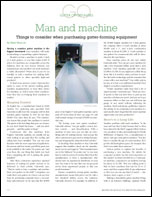 Man and Machine (Gutter Machines)
Mark Ward, Sr., Gutter Opportunities, Fall, 2005

Buying a seamless gutter machine is the biggest investment most installers will make in launching or expanding a gutter business. Should you buy a machine to make 5-inch or 6-inch gutters, or one that makes both? If prices for machines are comparable across the industry, how do you choose between one manufacturer and another?

Click here to read the entire article.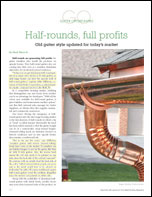 Half-Rounds, Full Profits: Old Gutter Style Updated for Today's Market
Mark Ward, Sr., Gutter Opportunities Fall, 2005

Half-rounds are generating full profits for gutter installers who install the products on upscale homes. Now half-round gutters also are coming into their own as a seamless aluminum alternative for moderately priced residences.

Click here to read the entire article.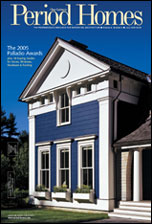 Water Works
Martha McDonald, Period Homes July, 2005

Putting the final touches on the exterior of a home is an important part of the job, according to suppliers of traditional gutter systems, and one that should be considered from the beginning of the project. They also cite a growing interest in traditional styles and materials,such as half-round copper gutter systems with decorative accessories.

Click here to read the entire article.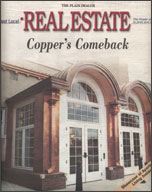 It's Everwhere: Copper Makes a Comeback
Jill Sell, The Plain Dealer, August 7, 2004

You're standing on your friends' front porch, waiting for them to answer the door. When you casually glance to your right, you see a very attractive copper chain where normally a downspout might be located. The chain includes a vertical row of what looks like inverted bells. How pretty and clever, you think, not knowing that the rain chain actually has a very practical purpose...

Click here to read the entire article.